XFINITY VOICE
More ways to connect with friends and family
We have just the plan for you
Keep in touch with friends and family around the world, across the country, or right next door — all with amazing call clarity so your conversations are loud and clear. 
Xfinity Voice Unlimited 
Enjoy unlimited calling to nearly half the world, readable voicemail, 3-way calling, and more.
More ways to stay connected
Keep in touch with affordable local, long distance, and international plans. Plus add voicemail for $3.95/mo.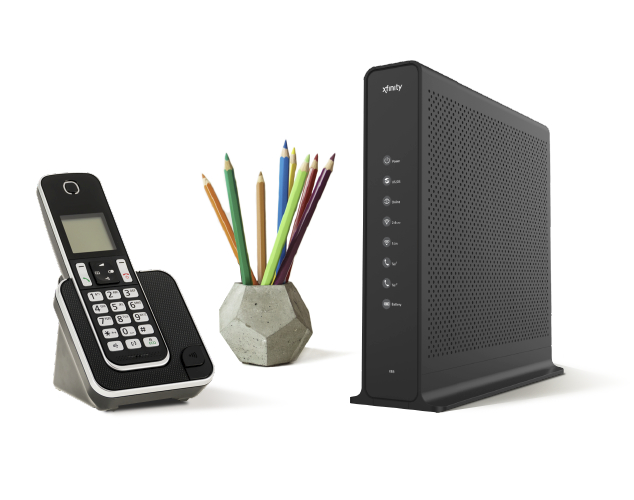 Equipment
WiFi, meet home phone
Xfinity Voice is our digital phone service known as VoIP (Voice over Internet Protocol). It takes your phone service online to give you amazing call clarity and advanced features, and requires an Internet connection. You can rent an Xfinity Gateway or you can purchase your own compatible modem and router.
Hear it to Believe it
Crystal clear calls. Around the world.
Talk as much as you want to nearly half the world with Voice Unlimited
Stay protected from unwanted spam calls with our innovative call blocking technology. 
*Restrictions apply. Not available in all areas. Limited to residential customers. Equipment, Installation, taxes, fees, including regulatory fees and other applicable charges extra and subject to change. Pricing subject to change. Carefree Minutes requires subscription to Xfinity Digital Voice Service at regular rates and applies to direct-dialed calls from home to locations included in the plan (except mobile numbers and operator services). Unused minutes do not roll over to the following month. Xfinity Digital Voice® Local with More® pricing applies to direct-dialed local calls from home to locations covered by plan. Please call Comcast for coverage areas. Additional charges may apply for calls beyond coverage area. Service (including 911/emergency services) may not function after an extended power outage. Universal caller ID requires subscription to Xfinity Digital TV and Internet Service. Unlimited calling on mobile devices requires download of the Xfinity Connect app. Standard data charges may apply. Check with your carrier. Price of renting a Wireless Gateway is in addition to the cost of your Internet package and is subject to change. 30-Day-Money-Back Guarantee applies to one month's recurring service charge and standard installation up to $500. Call for restrictions and complete details. Comcast © 2021. All rights reserved.